Welcome to Deluxe Dental Group – Your Destination for Botox Cosmetics in Kuna
Are you looking to enhance your natural beauty and achieve a more youthful appearance? Look no further than Deluxe Dental Group, your trusted provider of Botox treatments in Kuna. Our experienced team of professionals is dedicated to helping you achieve your aesthetic goals, providing you with safe and effective Botox treatments that deliver remarkable results.
Why Choose Botox Cosmetics?
Botox has become one of the most popular cosmetic treatments worldwide and for good reason. This FDA-approved treatment offers a non-surgical solution to combat the signs of aging and achieve a rejuvenated look. Botox works by temporarily relaxing the muscles that cause wrinkles, fine lines, and crow's feet, resulting in a smoother and more youthful appearance.
At Deluxe Dental Group, we understand that each individual has unique aesthetic goals. Whether you're looking to reduce forehead lines, diminish frown lines, or minimize crow's feet, our skilled professionals will tailor your Botox treatment to address your specific concerns. We take the time to listen to your needs, assess your facial structure, and create a personalized treatment plan that delivers natural-looking results.
Our Botox Treatment Process
When you choose Deluxe Dental Group for your Botox treatment in Kuna, you can expect a comprehensive and comfortable experience. We prioritize your safety and satisfaction throughout the entire process. Here's what you can expect:
1. Consultation: We begin with an initial consultation to understand your goals and assess your eligibility for Botox treatment. Our friendly team will answer any questions you may have and address any concerns.
2. Personalized Treatment Plan: Based on your unique facial features and desired outcomes, our experts will develop a personalized treatment plan to achieve optimal results. We will discuss the number of units needed, the expected duration of treatment, and any potential side effects.
3. Administration of Botox: Our highly trained professionals will administer Botox injections with precision and care. We use fine needles to minimize discomfort, and the procedure typically takes just a few minutes to complete.
4. Recovery and Aftercare: Following your Botox treatment, you can resume your daily activities with minimal downtime. We will provide you with post-treatment instructions to ensure a smooth and comfortable recovery. Our team is always available to address any concerns or questions that may arise.
Experience the Deluxe Difference
At Deluxe Dental Group, we pride ourselves on delivering exceptional care and outstanding results. When you choose us for your Botox treatment in Kuna, you can expect:
Experienced Professionals: Our team consists of highly trained and experienced professionals who specialize in Botox cosmetics. We stay up to date with the latest techniques and advancements to provide you with the best possible outcomes.
Comfortable Environment: Our state-of-the-art facility is designed to provide a comfortable and relaxing atmosphere. We strive to create a pleasant experience for our patients, ensuring your visit is stress-free and enjoyable.
Personalized Attention: We believe in the power of personalized care. Our team will take the time to understand your unique goals and concerns, tailoring your Botox treatment to meet your specific needs.
Exceptional Results: Our goal is to help you achieve natural-looking and long-lasting results. With our expertise and attention to detail, you can trust that your Botox treatment will deliver the desired outcome, enhancing your natural beauty.
Schedule Your Botox Treatment Today
If you're ready to rejuvenate your appearance and regain your confidence, contact Deluxe Dental Group today to schedule your Botox treatment in Kuna. Our friendly team is excited to guide you through the process and help you achieve your aesthetic goals. Experience the Deluxe difference and discover the transformative power of Botox cosmetics.
Botox FAQ
Botox Cosmetics, often referred to as cosmetic Botox, is a non-surgical aesthetic treatment that uses botulinum toxin to temporarily reduce the appearance of wrinkles and fine lines on the face.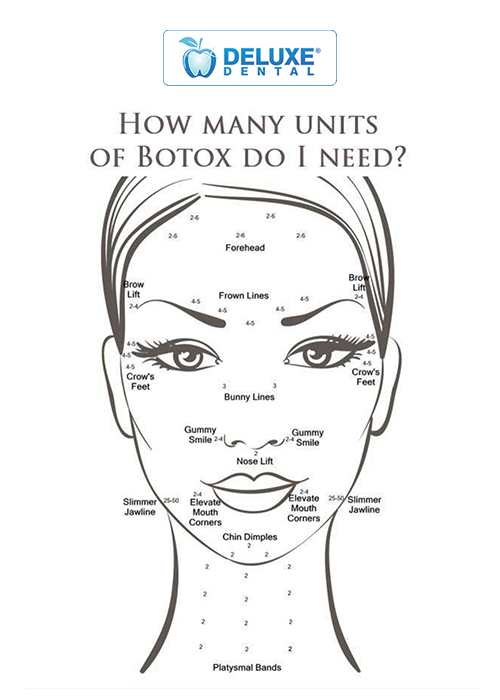 CONTACT US
To schedule your consultation today, please give our dental office a call at